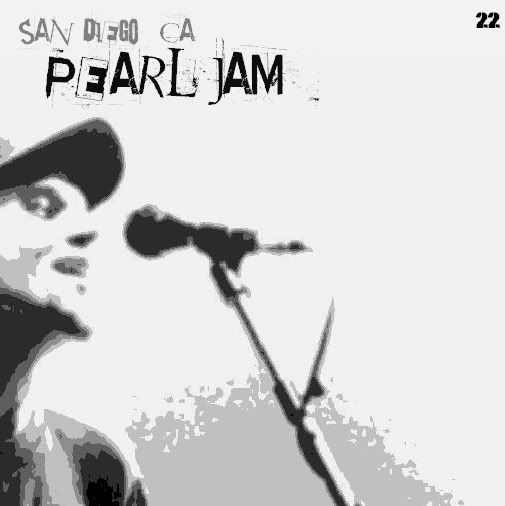 1995 USA Vitalogy Tour Show
Oceans, Go, Animal, Last Exit, Tremor Christ, Corduroy, Rearviewmirror, Betterman, Even Flow, Why Go?, Deep, Red Mosquito, Glorified G, Daughter/(I Believe in Miracles)/(Touch of Grey)/(W.M.A.), Jeremy (New), Not for You, I Got Shit, Lukin/Whipping, This Boy (Ed solo), Alive, Black, Blood
Spin The Black Circle, Leaving Here, I Can't Explain, Porch
Yellow Ledbetter
Show Notes:
As is the case typically, the second show in the same venue never disappoints and this show is no exception and Mike is having a wild night. At the end of 'Tremor Christ,' Ed comments, "Hello kiddies. Get comfortable; we're gonna be here for a while."At the end of 'Why Go?,' Ed raises his guitar overhead, as if preparing to smash it, but a tech swipes it from his hands and Ed looks terribly surprised!Ed clearly shows how he feels about 'Glorified G,' substituting the lyrics, "... glorified version of I hate this song" twice, looking over his shoulder at Stone and half smiling.
Experiencing tuning problems at the end of 'I Got Shit,' Ed tosses his guitar and says, "New guitar, please! After all, I am a rock star." Pretty humorous. 'Lukin' sports an ambient guitar intro, ending with a quick "1234" leading to a snappy 'Whipping.'
Ed returns to the stage on a skateboard for the first encore, and Stone ges a small fire going at the base of Ed's mic stand. 'Spin the Black Circle' is introed as "a love song."
Mentioning that the two San Diego shows help raise $50,000 donated to the Surfrider Foundation leads to a comment about how they had messed up the next song the previous night. Then Ed flubs the start of 'Leaving Here,' and notes that "it's really a rather hard song to play" but then they kick into it.This show is a fine conclusion to a wild 1995 tour.
2-source mix: [Neumann KM-140 > HHb Pro 1 > dat > dEQ > dEdit > cdr > 44.1 kHz wav > 48 kHz wav > dEQ] + [MWFM > dat > 48kHz wav] > 44.1 kHz wav > shn > FLAC